Pride
Quality
FUN
We take pride in stating that the coins we sell come from uncirculated rolls. Most dealers aquire bags of coins which more often than not contain coins with more scratches and dents. Even though those coins are "uncirculated" they seen there share of bumps and nicks. By choosing us you get the highest quality coins available.

We ship our coins in 2x2 coin protectors. This ensures that through the mailing process your coins aren't going to suffer and be beat up. Additionally we place the coins in the 2x2, in a plastic bag then again in an envelope before the final shipping package. This adds layers of safety to ensure your coins make it is the condition they arrvied from the mint.. The other guys put their coins in a little baggy among all the other coins you bought. By the time you get them they are full of scratches and dents..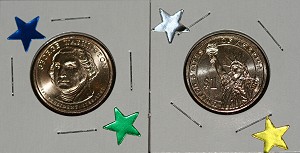 We do all our packing by hand. We dont use machines to pack and sort your coins. Coin collecting is for people who enjoy coins. We take pride in sorting out your coins, and will toss out any that dont meet our quality standards.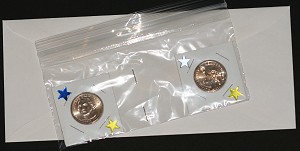 Lots of stars lots of fun. We dont like writing on our 2x2's this method is more fun and professional:
RED Star- SF Mint
SILVER Star- Denver Mint
BLUE Star- Philadelphia Mint
YELLOW Star- Uncirculated Coin
GREEN Star- Mint Coin- no flaws
Mint Coin Shipping
For all in stock coins, we ship within 24 hours!
MintCoinDealer ships to all 50 states and US territories. We recommend that you select USPS Express or USPS Priority Mail for shipping of coins. These options include delivery confirmation service (tracking) and insurance. Claims of lost mail can only be replaced when USPS validates the claim. Claims made involving the use of USPS Parcel or 1st class shipping cannot be processed. These cheaper services do not insure or guarantee delivery and often are the vehicle of fraudulent claims.
If coins are damaged in shipping (which has yet to occur) we will replace if the claim meets the USPS insurance policy. All coins are photographed prior to shipping to document the state and verify package contents.
If a product goes on back order we may refund the customer if we cannot restock in a reasonable amount of time. We will notify you in the rare event that this takes place. Upon refund we cannot guarantee the future availability and or price of the product as market conditions dictate price and availability.
Our return policy is very limited to protect the quality of the coins we receive back into stock.
We only sell coins produced from the US Mint. Since we do not manufacturer these products Coins are sold "as is" and do not issue refunds from customers based on manufacturing issues.
We cannot returns for coins which have been opened/ directly handled/ had coins removed or show signs of had taken place. Any packinging from the US Mint which have been opened will not be accepted for a return, including but not limited to sealed boxes or envelopes, removing from packaging, removing from rolls, taking coins of of plastic cases, etc. Additionally we cannot receive returns for products where the quality of the coin or packaging has been altered. (Not limited to: Opened, bruised, tarnished, torn, taped, etc..) Returns need to be pre-approved and returned within 2 weeks of order date.
The above actions reduce the coin value, increases the chance of coin tarnishing/oxidation and introduce the risk of fraud. Our policy further reduces cases where a buyer substitutes a coin we sold for a inferior replacement or buying more coins than he expects to keep so that he may choose the best ones and return the rest...
If any item is returned to us and shows signs of been opened, removed, or handled in a fashion where condition may be affected or substitution may occur we will not refund such items/ orders. We do not accept returns for customers who "change their mind" after an order ships out.
We can ship back items returned to us deemed unreturnable once the customer pays return shipping costs.
*Our goal is to eliminate fraud and protect our products and customers.